Askeladden is Norways largest manufacturer of leisure boats. Our vision is to set the standard for the future of boating. Askeladden manufactures market-leading boats with an uncompromising focus on design, innovation and safety.
Quality in every detail
Askeladden leisure boats feature comprehensive and solid quality and are designed for Nordic climates. Every Askeladden boat has been built to provide problem-free and wonderful boating, in all kinds of conditions.
The quality requirements laid down by Askeladden are your guarantee for great boating. – Every Askeladden has exceptional hull quality. Multi-axial fibre mats are used in the hull to ensure maximum hull strength.
Strict and definite quality requirements are placed on mooring fittings, instruments and furnishings. As such, you will have a leisure boat which will last you a lifetime.
Innovative instruments and modern furnishings. The beam and high freeboard of Askeladden boats, in relation to length, provide for extra high safety on-board, for both children and adults.
Facts
Company name: Askeladden Boats AS
Managing Director: Henrik J. Askvik
The Askeladden boat adventure started in 1911
There has been manufactured over 95,000 Askeladden boats
Boat range with 14 models ranging from 4-10 metres in length
Sells boats to 10 different countries
Production is placed in Hagavik, Norway
Askeladden – Quality guaranteed
Hull warranty
Askeladden leisure boats comes with a 5-year hull warranty. The hull warranty is only valid if the boat has been purchased from an approved Askeladden dealer. The hull warranty does not apply to commercial use. The hull warranty follows the boat when sold (ref. warranty card for complete list of terms and conditions).
Guaranteed to stay afloat
Askeladden boats under 6 metres in length are filled with buoyancy foam. This provides extra buoyancy and prevents the boats from sinking, even when filled with water, carrying the maximum number of persons, full load, full fuel tank and engine. The foam also provides added stiffening and noise insulation. It is also oil and fuel resistant.
Self-bailing
Self-bailing equals less maintenance and more enjoyment. All Askeladden boats are self-bailing, both when moored and moving. Askeladden boats are fitted with a manual shutoff valve which can be used when the boat is carrying an extra heavy load. The self-bailing system works without the need for a pump or non-return valve. All self-bailing Askeladden boats have full internal freeboard height.
CE label
The CE-label on your Askeladden boat is proof that the boat and all equipment satisfies the leisure boat directive requirements, dated 16 June 1998. All Askeladden models from 1998 and onwards have the CE-label. Look for a CE-label when buying a boat.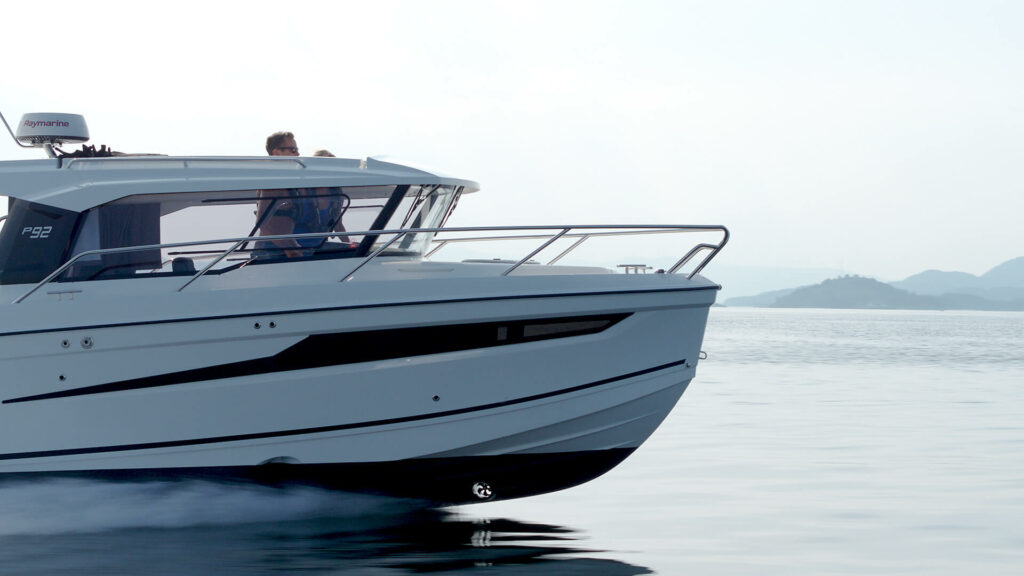 Dealers who follow Askeladden's quality standards
Askeladden dealers are people with high expertise and a great attitude towards customer service, and are an important part of the total Askeladden concept. We have a vast network of dealers throughout the Nordic countries and in large parts of Europe. The dealers are there to provide you with the best possible customer service. The dealer network for Askeladden boats has the same level of quality as the boats themselves.
Setting the environmental standard for the future of the boat industry
Leisure boats and boating are unfortunately a source of pollution. Askeladden is therefore strongly involved in developing a stronger environmental profile, with clearly defined goals for production, waste management and recycling of our leisure boats. Askeladden is continuously working on new and existing methods to ensure our operations are kinder to the environment and to life both in and on the sea. Recycling of Askeladden boats and packaging Being involved at every stage of the life cycle of our boats is an important part of our strategy for the future. Askeladden takes part in the "Recycling for recreational boats" project, led by the Research Council of Norway. The principal purpose of the project is to define efficient logistic systems for collecting and recycling recreational boats. Several major institutions collaborate on the project, including NORBOAT (Norwegian trade organisation for boat builders), the Norwegian Environment Agency, SINTEF and the Norwegian University of Science and Technology (NTNU).
Askeladden boats are fitted with world-class engines.
Thanks to the high demands placed on quality, Askeladden boats can carry powerful engines. The outboard engines are supplied by Suzuki, who have the most extensive range of eco-friendly and efficient four-stroke outboard engines. With a Suzuki engine, boaters have the ultimate combination of performance, durability, simplicity of use and lifetime, irrespective of engine class.
Securmark – standard on all models
Since 2008, the Securmark has been engraved into all Askeladden boats as standard, providing security against theft. The Securmark is an international system to protect against theft and exists in Europe, North and South America and Australia. During production, Askeladden engraves micro labels in concealed parts of the boat. Each micro label contains a unique code which is registered on the Securmark central database with information on the boat, engine and owner.
Securmark makes it easy to check who owns a boat when changing owners/selling. The system prevents theft of your Askeladden as it is a great preventative and, if your boat is stolen, will help ensure quick return to the rightful owner. All boats with Securmark anti-theft protection are clearly labelled with warning signs which will prevent thieves from attempting to steal your boat.